Roses
Roses with Sunflowers - Romance and Happiness Combined

3 MIN Read
03 Oct 2022
By Michael Jacobson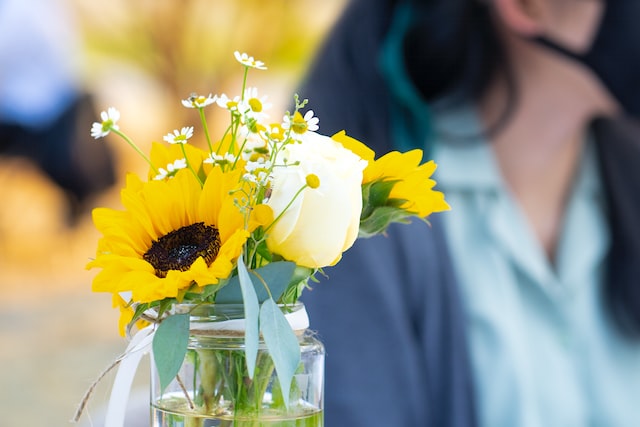 Flowers are a way to express how you feel when the words just aren't enough. If you're looking to surprise that special someone with a unique bouquet of vibrant flowers, roses with sunflowers are a winning combination. Sunflowers' joyful, golden petals combined with passionate, romantic roses break away from tradition for a unique floral combination. If you're looking for a way to surprise someone special when they least expect it, or a beautiful flower arrangement for a fall wedding, a sunflower and rose bouquet is a perfect choice.
Roses are Romantic in any context
Roses have been seen as the flower of romance for centuries, with Shakespeare famously using roses as a metaphor for romantic beauty in Romeo and Juliet. Today, they remain a popular choice of flower to symbolize romance and passion. Bright red roses are known to represent romance, while deep burgundy roses express undying love. The quantity of roses also has significance. A single red rose symbolizes love at first sight, while six red roses represent infatuation or desire. If you're sending a dozen red roses, you're telling the recipient you want them to be yours. 
Express Positivity with Sunflowers 
If you're looking to brighten someone's day, sunflowers are a brilliant choice - either as the centerpiece of a bouquet or alongside multi-colored flowers. With their joyful and vibrant petals, sunflowers can bring positivity and color to any time of year. They're the most cheerful blooms, making them a great flower to complement roses in a bouquet. If you're looking to express both love and positivity, a rose and sunflower bouquet is the answer.
Roses with Sunflowers to Surprise Your Girlfriend
Whatever the occasion, nothing says that you care quite like an enchanting bouquet. Perhaps you need to apologize to your girlfriend, or simply cheer her up when she's having a bad day. If you're looking for an out-of-the-box bouquet, why not combine the happiness of sunflowers with the romance of roses for a unique, colorful arrangement? They're a great combination to express how you truly feel about the special woman in your life, with sunflowers representing happiness and adoration, and roses symbolizing love and romance.
Roses with Sunflowers for Fall Weddings
If you're looking for fall wedding flowers to express the happiness you both feel and the love you share, roses with sunflowers could be a winning combination. The two together offer stunning autumnal colors, perfect for a fall wedding. Deep, rich red roses with golden sunflower petals can represent the changing color of the leaves in fall - making them a unique flower arrangement for a cozy fall wedding. Roses with sunflowers can also complement a variety of colors throughout your wedding decor, such as your bridesmaids' dresses.
Order a beautiful roses and sunflowers bouquet today
Bring a smile to their face with a stunning bouquet of roses and sunflowers from French Florist. Our local team of floristry experts take the utmost care to create beautiful flower arrangements for any occasion. You can expect the very best quality every time, so we become your go-to florist for life. Order flowers today for delivery nationwide or next-day local delivery. 
#FFinstagram
FRENCHFLORIST