Wedding
How to Choose Fall Wedding Flowers Bursting with Color

2 MIN Read
19 Sep 2022
By Michael Jacobson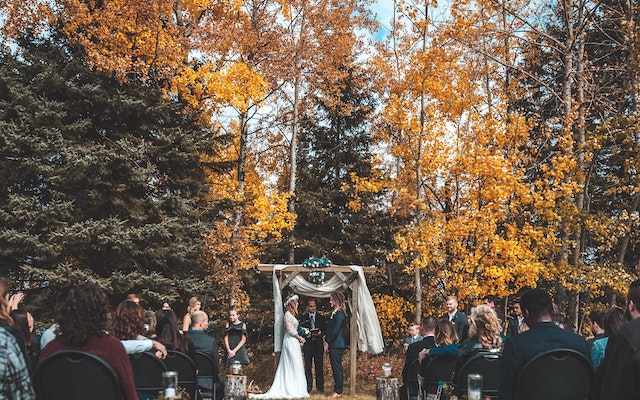 Fall is a season of change, and it brings with it some of the most spectacular colors seen in nature. The transition of vibrant greens to rich and fiery yellows, oranges and reds is like an explosion of warmth, even as the temperature gets colder - how could you not want to replicate these gorgeous hues in your fall wedding decor? 
Fall Offers Some of the Best Flowers for an October Wedding
Lots of flowers continue to bloom well into October, meaning that soon to be wed couples don't have to limit themselves when it comes to picking floral arrangements. Varieties of sunflower, roses and lilies are all readily available throughout the fall - and these flowers all come in shades found in the autumnal color palette.
Not limited to just the flowers that bloom in fall (and there are more of them than you think), an October wedding can capitalize on the features of fall itself. Fall flower arrangements and centerpieces often carry seasonal touches that can look charming in a wedding setting - candles, cornucopias of fruit and berries, and even foliage such as wheat and barley. 
Can Fall Colors Represent Love and Warmth?
While gentle tones like pink, white, and blue are often seen in spring and summer weddings, fall introduces richer shades. Don't worry - darker colors don't have to signify dark feelings! Lots of flowers that mean love can be found in autumnal shades. Here are some of the colors commonly found in fall flower arrangements and what they represent.
Red
Red flowers have always held a long association with passion. Roses, which you can find in many shades of red, are the ultimate symbol of romance, and red chrysanthemums, the perfect fall flower, represent joy and happiness. Exactly what every wedding needs!
Orange
Orange is an obvious color for fall - the color of lots of ripe fruit and vegetables, the color of autumn leaves, and the color most associated with holidays like Halloween and Thanksgiving. However, orange is also known to symbolize abundance, and strong feelings like exhilaration and excitement. 
Purple
Dark reddish-purple shades add a deeper dimension to an autumnal bouquet. Purple may be considered gothic by some, but has always been associated with luxury and royalty. Calla lilies are a suitably dramatic wedding flower, and can be found in a rich plum purple. 
What about guests with allergies?
There are plenty of hypoallergenic flowers available to choose from when deciding on wedding flowers. These flowers have lower amounts of pollen, or pollen that isn't easily dispersed, and are less likely to trigger an allergic reaction. 
The most popular hypoallergenic flower is the hydrangea. Hydrangea pollen is sticky, not light and airborne, so it is less likely to tickle guests' noses and make eyes water. They come in red and purple, so will not look out of place in autumnal bouquets. 
Fall in Love with Fall Flowers
Make seasonal colors part of your special day. Order fall wedding flowers from French Florist by 2 pm for same-day local delivery across Los Angeles.
#FFinstagram
FRENCHFLORIST